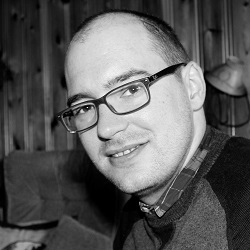 I grew up in Albany, California, a couple of blocks from Berkeley and a short BART ride from San Francisco. Starting out in a place where it's spring all year, I proceeded to make a series of highly questionable moves (snowy New England, rainy Old England, polar vortex-battered Canada) and a couple of more understandable ones (San Diego, the Marshall Islands). My boomerang-shaped migration has landed me in Toronto, where I now live with my wife at the world headquarters of Peter Rudiak-Gould Consulting (a.k.a. our apartment).
Professionally, I wear a number of hats. I'm a cultural anthropologist and social scientist who has done extensive
research
on the human dimensions of climate change under the auspices of Oxford University, McGill University, and the University of Toronto. Since February 2013, I've been working as a
consultant
, dividing my focus between the Greater Toronto Area and the Pacific Islands. I'm also a
writer
of travel memoirs.
You can learn more about me, especially my ongoing involvement with the climate-
threatened Marshall Islands, in this
BBC Oxford radio interview
and these articles in the
Oxford Mail
and the
Oxford Times
. Other interviews can be found here:
Rolf Potts
,
Andy Ross Agency
,
Pasifika Truthfully,
Travel Wonders Part 1
/
Part 2
,
Wandering Educators
,
Travel Junkie
,
The Planet D
.